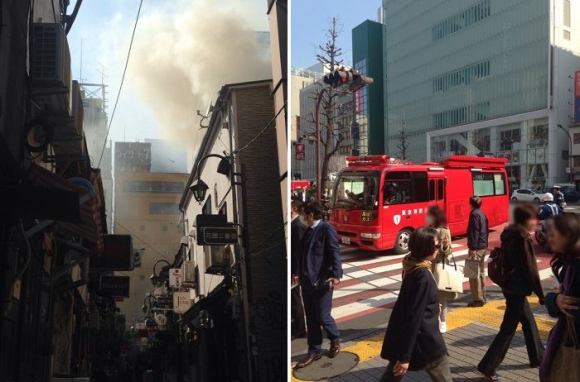 Tokyo's historic drinking district is sitting on prime real estate, and that's got people thinking…
In terms of floor space, Shinjuku Golden Gai (literally "Shinjuku Golden Town") is actually quite small — the entire district takes up only around 6,611 square meters (about 71,160 square feet). Nevertheless, its historical significance is difficult to understate — it has long been a gathering place for artists and writers and is a favorite for bar-hopping visitors, with the Showa-era architecture and cramped but unique bars making for a great night out drinking.
ポンプ車など41台出動 「新宿ゴールデン街」火事 https://t.co/rtNMGz7c3l pic.twitter.com/t0nUZO5JUn

— テレ朝news (@tv_asahi_news) April 12, 2016
Yesterday, a fire tore through several buildings in the area, making both national and international headlines. While an uncontrolled fire is never good news, the flames in Golden Gai were particularly striking to many across Japan, thanks to the area's historical significance and a general appreciation for its many watering holes.
Fortunately, there have been no reports of loss of life as a result of the fires, and no one was seriously injured, although one woman did receive treatment for smoke inhalation.
【新宿ゴールデン街火災】出火直前に不審な男…放火の可能性も?https://t.co/5dmA4I1D6e

火元の店舗へ入り数分後に出て行く男が、防犯カメラに映っていた。帽子にジャンパー姿、リュックサックを背負っていたという。 pic.twitter.com/BFJZ8RO6cj

— ライブドアニュース (@livedoornews) April 13, 2016
An investigation into the cause of the blaze began this morning. Japanese news outlets have reported that the fire started in a building that was undergoing renovation approximately an hour after an interior construction crew left the building. However, the Mainichi Shinbun reported this afternoon that a suspicious-looking man had been caught on camera entering the building where the fire started, exiting not long before the flames were spotted, and even as we were in the process of writing this post, an NHK News report stated that a 66-year-old man had been arrested in relation to the fire. No further details about the man have been released other than that he is unemployed and has no fixed address.
▼ Unfortunately, the damage was fairly extensive.
https://twitter.com/MariYamamotoNYC/status/719837994929094656
At the moment, the cause of the Golden Gai fire is still under investigation, and we have no real insight into why someone would start such a blaze. However, a number of wild rumors have been zipping around the internet since the fire began, and while we don't give them any credence, they do provide an interesting historical context for Golden Gai.
▼ One of our Japanese reporters was on hand yesterday to capture these images.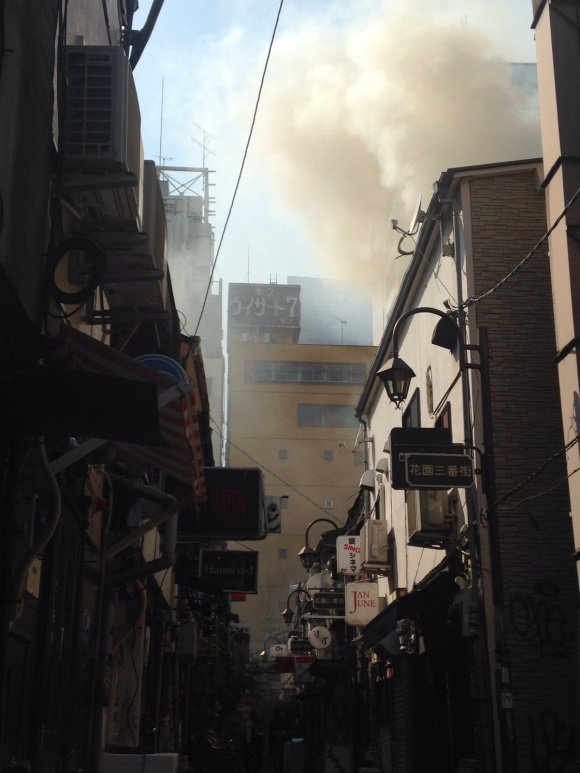 The district was originally established after World War II when the General Headquarters of the Supreme Commander for the Allied Powers forbade street stalls around Shinjuku Station. The owners of those stalls, unable to fight the orders from the GHQ and the police, eventually were forced to move to what is now the Golden Gai district.
After this move, the area developed a reputation for prostitution, which the government started cracking down on as Tokyo became an increasingly international city. In addition, restrictions on bars resulted in many establishments retooling themselves as "restaurants," so they could stay open later. From around 1965, the district began to attract various writers, artists, photographers, and other such creatives, earning Golden Gai a reputation as a sort of cultural center — a reputation the area retains to this day.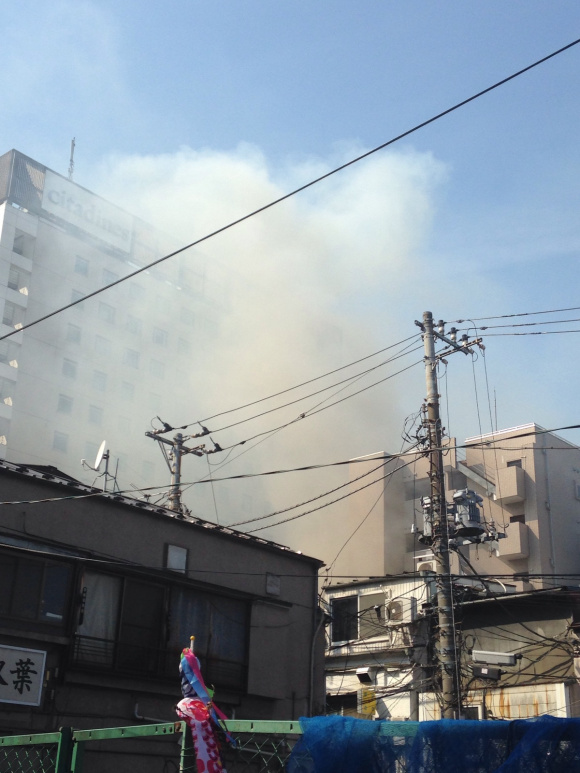 But in the 1980s, during Japan's period of economic prosperity, a new danger began to threaten the district. As land prices soared, there was a sudden interest in forcing the locals to sell their land for redevelopment — which involved various strong-arm tactics. The establishments fought back, literally, by establishing "Shinjuku Kaen Golden Gai wo Mamorou Kai" (which could be roughly translated as "The Association to Protect Shinjuku Kaen Golden Gai").
Following the burst of the economic bubble, these threats abated and the district was left relatively undisturbed ever since. However, with the Tokyo Olympics looming large on the horizon and redevelopment efforts increasing, the price of land in Tokyo is again rising — and there have been suggestions for years that Golden Gai, so close to the enormous transport hub that is Shinjuku Station, might be an excellent target for redevelopment.
It's perhaps only natural, then, that with yesterday's fire Twitter should be jumping with speculation, with some even going so far as to suggest that real estate groups were behind the fire. After all, it's much easier to redevelop an area after all the buildings have burned down! Considering the news that a lone man entered the building and may have been the one to start the fire, it certainly adds to the conspiratorial intrigue — but we have a feeling not many people are taking this idea seriously.
▼ Narrow streets made firefighting difficult.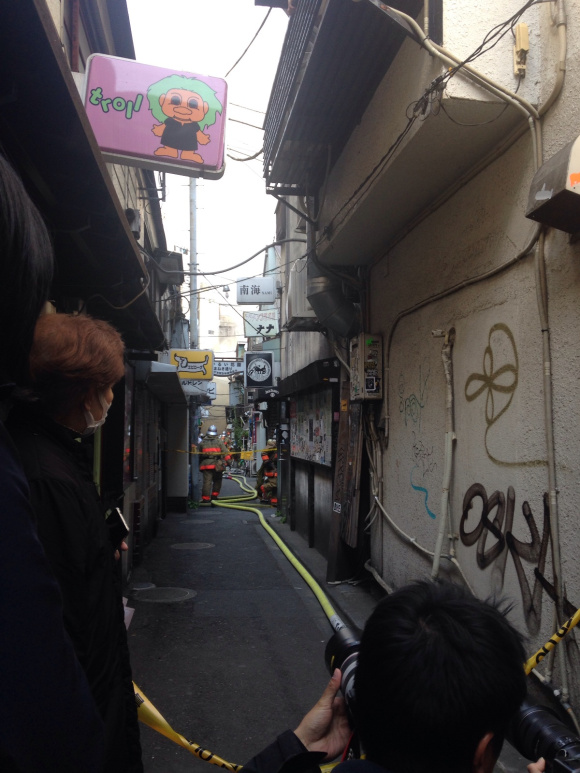 The story is obviously still developing and we won't know more until the police have finished questioning the suspect. For now, we can just be grateful the damage and number of injuries were limited.
Sources: Mainichi Shinbun, NHK, JCast News, Yahoo! Japan News, Matome Naver
Images © RocketNews24