There were rumours recently about a live action version of Ghibli's Kiki's Delivery Service. What's more, these reports claimed that Takashi Shimizu, the horror film director who brought us nightmare-inducing classics like The Grudge, would be sitting at the helm of the project. A horror take on the story of a cute 13-year-old witch? It  seemed too good to be true! Well, it was a sad day when Studio Ghibli released an official statement quashing the salacious rumours, saying, "We have no involvement in the matter."
But live action versions of Ghibli films aren't just the stuff of dreams; Princess Mononoke has a stage version that just premiered in London and is coming to Japan in a matter of days! What we would give to meet just one of our favourite Ghibli heroines in person! Inspired by all this talk of adaptations, we took a look at some of the Ghibli films we thought deserved to exist in the real world.
Ponyo
We'd love to see this cute little fish-girl come to life. Maybe in an Ang Lee-Life-of-Pi-CGI-enhanced-style blockbuster. Boy meets fish; fish turns into human/fish/thing; weird plot involving an old people's home and a possessive wizard; sounds like a classic to us!
Spirited Away 
Joking aside, just thinking about Chihiro's fantasy world in a Cirque-du-Soleil-type stage adaptation is enough to make us swoon. Complete with a handsome dragon. This needs to be done. Enough said.
My Neighbor Totoro
Sweet Totoro was born to be in a pantomime. But we'd prefer to see the CGI team from the Hulk movie get onto a life-like rendering of our furry friend. As the antithesis to the angry Hulk in a big city, a gentle Totoro exploring the countryside of Japan is something we would pay to see. And another vote for Ang Lee.
Pom Poko
If Cats the musical had decades of success, then there's no stopping this band of Japanese raccoon dogs from busting out a few musical numbers of their own on Broadway or the West End. Although shape-shifting on stage may be one to work out…
 Nausicaa of the Valley of the Wind
 The high-speed gliding! The jungle creatures! The warrior battles and dramatic rescues! This classic is crying out for a Star-Wars-prequels-style update. Someone keep Angelina Jolie away from this one!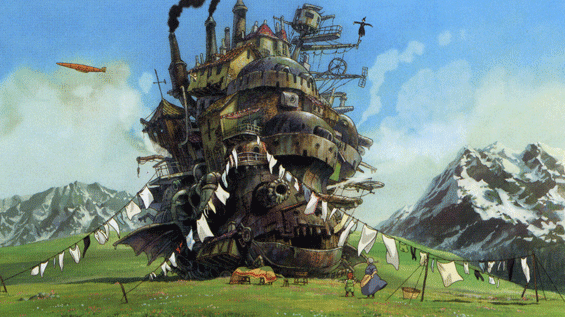 Howl's Moving Castle
This one has Tim Burton all over it. With Johnny Depp and Helena Bonham Carter (of course) in the roles of Howl and Sophie. Yes please. Pretty, pretty please!
Now we feel a lot better. With so many great possibilities and compelling storylines to choose from, we're convinced it will only be a matter of time before we get some live-action Ghibli in the future. We won't go crying into our freshly baked Kiki pot pie just yet…
Sources: Yahoo! Japan News, Jin Anime Movie Guide