Among the many Japanese tales of heroes of justice battling giant monsters, Ultraman may just be the most popular. Since its television debut in 1966, hardly a year has gone by without a new Ultraman TV series or motion picture.
The franchise's longevity means that many long-time fans who started watching when they were young kids are now full-grown adults. On the one hand, growing up means more responsibility, but it also means more freedom, including the freedom to knock back a few cold beers at a new dining and drinking establishment where Ultraman's monstrous foes take center stage.
While Ultraman and his successors, including Ultraman Taro, Ultraman Leo, and Ultraman Ginga, are undeniably the hero of the franchise, many fans also have a favorite among the kaiju, or giant monsters, that the Ultramen battle at a workmanship like pace of roughly one per episode.
The just-opened Kaiju Sakaba, or Kaiju Pub, in the city of Kawasaki was created to give fans a place to honor Ultraman's worthy adversaries, plus knock back a few cold ones. To maximize the efficiency in doing so, the beer mugs are even decorated with pictures of the kaiju.
▼ Oddly enough, despite the Jamila mug being a parody of the Asashi Super Dry logo, the Kaiju Sakaba's house beer is Suntory's Premium Malt's.
As individuals who refuse to let go of our childhoods, even as we embrace our adult right to imbibe alcoholic beverages, we paid a visit to the Kaiju Sakaba, where we were greeted by honorary manager/eternal Ultraman foe Baltan Alien.
▼ Seen here showing his newly acquired grasp of Japanese Earthling manners by bowing in greeting.
▼ Like all talented service-industry professionals, Baltan knows that good customer service starts with a smile.
Several kaiju are also represented by the restaurant's interior decorations. Here we see Jamila parodying the famed Bocca del Verita, or Mouth of Truth.
Special respect is paid to Zetton, one of the very few kaiju to ever get the better of Ultraman in a fight.
▼ We're guessing that after several stiff drinks, the urge to jump kick the statue is almost uncontrollable.
▼ Speaking of methods of attacks, customers are explicitly asked to refrain from shooting monster-destroying beams of light from their hands.
▼ You know you're on the bad guys' turf when they start crucifying the heroes in effigy.
As Baltan showed us around his restaurant, our ears were greeted with recordings of the kaiju's roars and sound effects from their battles with Ultraman. Seating is divided into a number of themed sections, starting with, of course, the Kaiju Area.
Each table is dedicated to one of the most exalted beasts from the franchise, with Zetton once again being represented.
Even the buttons used to call the wait staff are a nod to the series, with a shape similar to the Color Timer on Ultraman's chest that indicates the hero's amount of remaining energy. In order to make kaiju feel as comfortable and relaxed as possible, when pressed it flashes red, indicating that Ultraman's power level is at its lowest.
There's also a section for Ultraman's aliens, which make up a separate faction from the kaiju.
Here we see the table for King Joe, whose unassuming given name belies his status as a 55-meter (180-foot) giant robot from outer space.
A special touch in the Alien Area is the lamps hanging from the ceiling, which are modeled after the starships used by the race of Baltan Aliens.
The kaiju's research into our planet's customs must have revealed that many Japanese humans feel most comfortable sitting on the floor, as shown by the suitably equipped Kaiju Free for All Zone.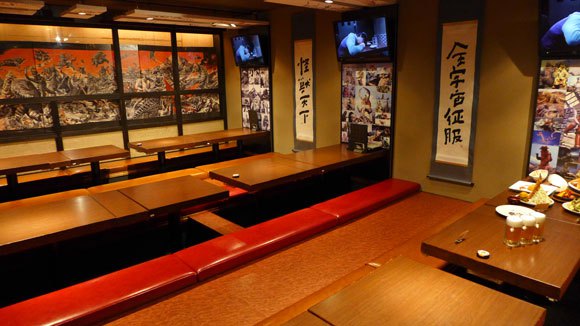 Parties looking for more privacy can request to dine in one of the private Battle Planning Rooms, and for those who feel like villainy spoils the taste of good food, there's also a section of the restaurant featuring paraphernalia from the heroic Ultramen and their puny human allies.
The Kaiju Sakaba is a restaurant after all, not a museum, so eventually we asked Baltan the Manager if we could sample a few dishes.
We started with an order of Baltan Alien Hospitality, which is a rice pilaf dish with an impressive amount of crab meat and kani miso, a mix of crab innards and miso paste you can often find at sushi restaurants in Japan. It tasted great, and the dish shaped like Baltan's scissor hands gives it some extra style points.
Next, we moved onto the Forbidden Words Salad, inspired by the treacherous alien Mefilas.
Meflias is a bit of an odd character, as despite having a purported IQ of over 10,000, he has a strange obsession with trying to convince even one Earthling to agree to give him the planet. So great is his desire for the Earth that his salad is served on a dish making the same request. We'll have to get back to him, but what we can say right now is that we enjoyed the creamy yogurt-infused dressing.
The Fried Twin Tail is named after the natural prey of the prehistoric kaiju Gudon, who personally recommends the combination of two jumbo shrimp battered and cooked together.
"Aim for the Color Timer!" isn't just a sound battle strategy for the kaiju, it's also the name of this spicy jambalaya dish with the rice and fixings served separately.
Finally, "Destroy the Science Corps Japanese Base!" is a half-loaf of bread that diners tear apart to get at the white sauce and miso paste stew inside.
At this point, we were no longer hungry or thirsty, but there was one more thing to do before we went home. No children's TV series can run as long as Ultraman without generating a ton of merchandise, which visitors can pick up at the Kaiju Bar's attached gift shop.
Aside from even more kaiju-themed munchies, there's a series of chopsticks featuring the villains, with a note sheepishly mentioning that Manager Baltan would really be happy if the ladies would use.
There are also a ton of Ultraman figures on sale, for any patrons who are feeling sentimental after a few beers and want to pick up something for the kids, or for a personal trip down memory lane.
We realize it's not easy being a kaiju. The huge pantheon of Ultraman foes means regularly getting beaten up by the heroes, followed by a lengthy wait until you're the next episode with a script that calls for you. These lovable monsters do it all for our entertainment, though, so it's nice to see they at least have a place to kick back and have a few beers together between on-screen appearances.
Restaurant Information
Kaiju Sakaba / 怪獣酒場
Address: Kanagawa-ken, Kawasaki-shi, Kawasaki-ku, Ekimae Honcho 3-1, NOF Kawasaki Higashi Guchi Building, Basement level 1
神奈川県川崎市川崎区駅前本町3-1 NOF川崎東口ビル B1階
Open 4:30 p.m.-12 midnight
Website
[ Read in Japanese ]