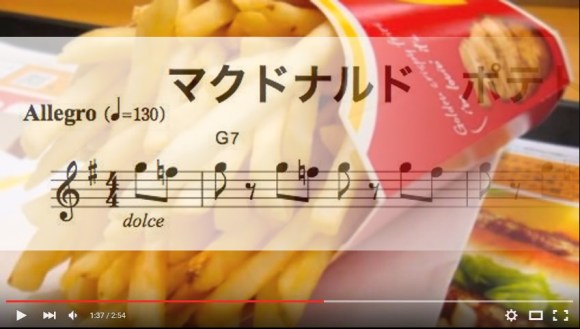 Warm the hearts of friends and family by recreating that distinct beeping sound of a finished basket of McDonald's fries on the instrument of your choice. It's a timeless classic.
You may not have properly identified it, but anytime you enter a McDonald's restaurant you've surely heard the distinct chime of the deep fryer timer. If the cacophony of orders being taken, customers conversing, and children screaming were the organized confusion of a symphony, the fryer timer would be the backbone of the ensemble.
And now, this distinct, magical melody can be yours thanks to Japanese Twitter user ZimuinG who painstakingly transcribed all four bars of it in fine detail.
▼ "Here you go; The sheet music of the McDonald's 'French fries are cooked' sound."
As we can see, the song is played in the key of G major at a tempo of 130 bpm. It's also important to note that this should be played dolce or "sweetly," which is valuable advice. This being an alarm, your instinct would be to go forte, but that would be a grave misstep.
Ahhhh belissimo! I heard the London Philharmonic do this piece once, but nothing compares to the original…
Depending on where you are reading this, you may have experienced a beeping sound at your local McDonald's different from Japan's. If that's the case, then I'm sorry…I'm truly sorry because this is the definitive deep fryer chime surpassed by none.
Comments were both supportive and confused by this ZimuinG's efforts:
"Got it thanks!"
"Now the fires shall always be done."
"So that's what that noise is! Thank you!"
"Does it really have to be in G major?"
"What the hell?"
"Tee-la-la, Tee-la-la"
Moved by ZimuinG's contribution to the arts I decided to build on it by writing out this piece in tab for those guitar players uncomfortable with standard sheet music.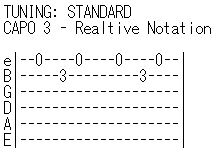 As the original score states, a G7 chord would make a nice accompaniment. Doing that with an echoing acoustic guitar while an electric plays the lead would make the foundation for a kick-ass space rock song.
Source: Twitter/@ZimuinG via Byokan Sunday (Japanese)
Top Image: Twitter/@ZimuinG, YouTube/japan tech (Edited by RocketNews24)
Tab: RocketNews24