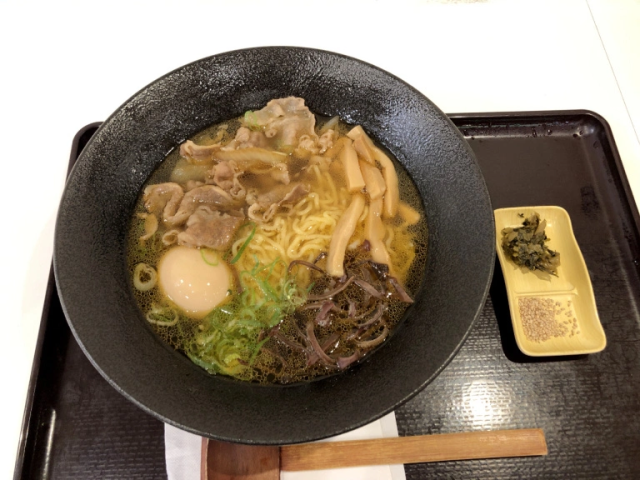 There's only one place in Japan where the beef bowl king serves these noodles.
Yoshinoya is practically synonymous with beef bowls, or gyudon, as the dish is called in Japanese. As a matter of fact, the connection is so strong that a lot of people in Japan don't refer to the casual restaurant chain as Yoshinoya, but as "Yoshigyu."
And sure enough, the branch we ate at the other day had beef bowls on the menu. It also had something we'd never seen, or even imagined, Yoshinoya serving: ramen!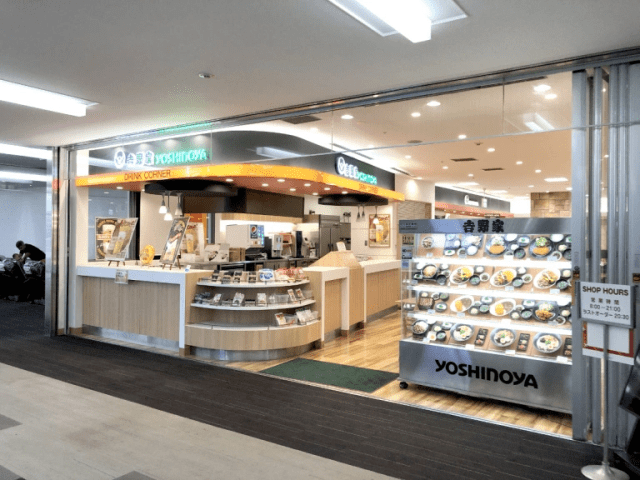 Now if you're also an experienced Yoshinoya fan who's never come across this ultra-rare dish, don't feel bad. There's actually only one Yoshinoya in Japan that serves ramen, and it's not like you can just walk right up to it, or even very far away when you're done. That's because Yoshinoya ramen is exclusive to a branch located in Narita Airport Terminal 2 that's only accessible after going through the international departure security check.
In other words, your only chance to eat it is if you're just about to leave Japan, so when we were passing through Narita at the outset of one of our recent globe-trotting adventures, you better believe we were going to take advantage of this rare opportunity.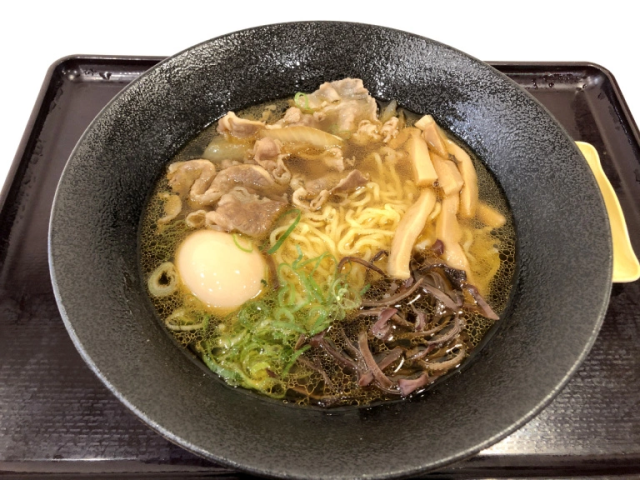 While this Yoshinoya also offers tonkotsu (pork stock) ramen, to us the only logical choice is the 1,000 yen (US$ 9.25) gyukotsu (beef stock) ramen. For one thing, beef stock ramen is incredibly rare in Japan, and for another, this is Yoshinoya we're talking about. They know beef, and we were confident the gyukotsu ramen wouldn't do us wrong.
You get a pretty nice mix of toppings, with faithful ramen standards like a nitamago stewed egg, kikurage mushroom, negi (green onions), and menma (fermented bamboo shoots). What's unique, though, is the meat. Instead of a strip of roast pork, instead you get strips of the same beef that ordinarily tops Yoshinoya's gyudon!
Following proper ramen-tasting protocol, we started with a sip of the broth, which is clear but richly flavorful. There's definitely a hearty beef flavor to it, and also a touch of sweetness, much like with Yoshinoya's beef bowls.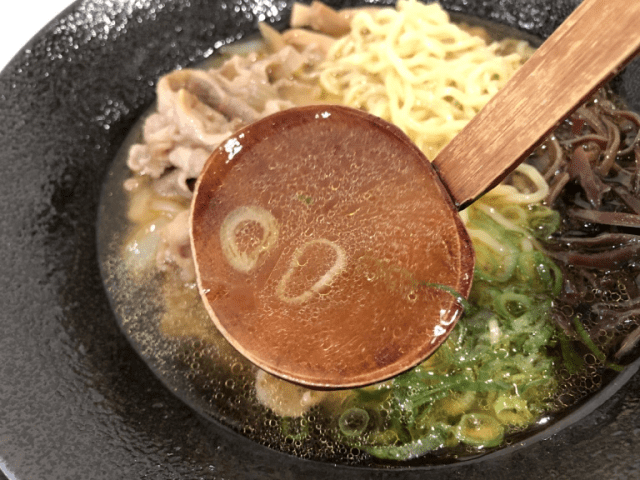 The star, of course, is the beef. It's as delicious as you'd expect from one of Japan's most popular choices for good, honest grub, and soaking in the ramen broth makes it extra moist.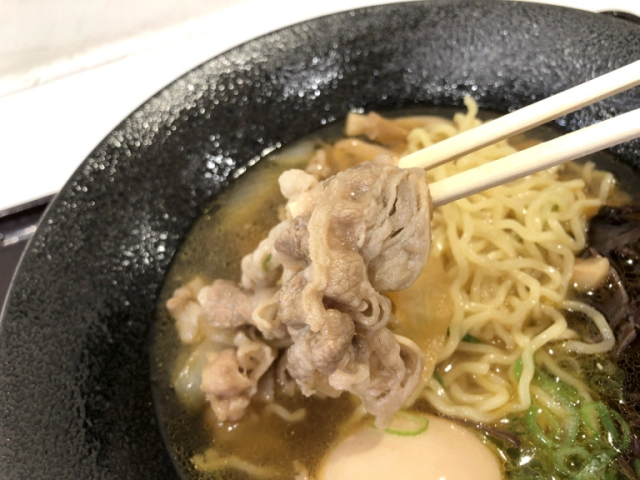 With ramen more popular than ever in Japan, sometimes some restaurants feel the need to try outlandishly complex and challenging flavors in order to draw in jaded self-professed ramen experts who feel like they've already experienced all the noddle medium has to offer. Yoshinoya goes in the complete opposite direction with its ramen, though, in that it's a straightforward flavor that just about anyone will enjoy, which, now that we think about it, makes it a great choice for Narita Terminal 2's international departure boarding area.
The only downside is that we can't easily go back for another bowl, so if we don't have an overseas trip lined up the next time the craving hits us, we'll just have to settle for tossing some canned Yoshinoya into a bowl of instant noodles, we guess.
Restaurant information
Yoshinoya (Narita Airport Terminal 2 satellite branch) / 吉野家(成田国際空港第2サテライト店)
Address: Chiba-ken, Narita-shi, Furugome 1-1, Terminal 2 South Terrace 3rd floor
千葉県成田市古込1−1 第2ターミナルビル南テラス3F
Open 8 a.m.-9 p.m.
Website
Photos ©SoraNews24
● Want to hear about SoraNews24's latest articles as soon as they're published? Follow us on Facebook and Twitter!
[ Read in Japanese ]