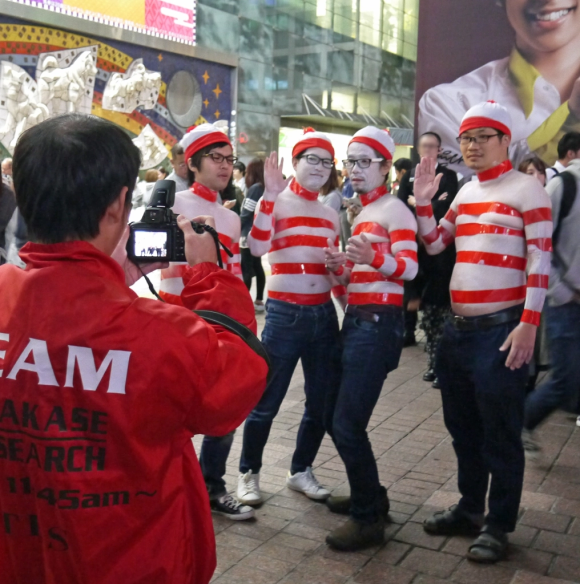 "Super-low-quality costume that makes you popular" will have everyone asking "Where's sexy Waldo?"
When asking for advice, you always have to remember that the suggestion they give you will be filtered through whatever their own personal criteria are for a "good idea." So when we found ourselves stumped for Halloween costume ideas and asked for help from ace reporter Mr. Sato, a man who once thought "Spritzing your crotch with cooling spray sounds like a great way to beat the summer heat," we expected something pretty crazy.
▼ Mr. Sato, suffering the after-effects of one of his brilliant plans.
But Mr. Sato gave us the biggest surprise he possibly could by supplying a suggestion that's totally sensible. "Let's all dress up as Waldo," he said, referring to the star of the Where's Waldo? (known in some territories as Where's Wally?) series of picture books. After all, it's a simple but instantly recognizable costume. Mr. Sato even volunteered to pick up everything we'd need to put together our outfits, and in no time at all he was back from the store.
"OK, I got us some hats," he said, pulling a striped cap out of his shopping bag. "I also got all the face paint and electrical tape we need. I figure we can just wear our jeans for the pants."
You know, sometimes we have to take a minute to remind ourselves how lucky we are to work with a guy who's so helpful–wait, electrical tape? And why are there no shirts?
"Dude, we can't show up at Shibuya Scramble Crossing, Tokyo's biggest Halloween gathering spot, just dressed as any old Waldos!" Mr. Sato explained, simultaneously striping off his shirt and handing a tube of face paint to Yoshio, our boss.
▼ Does your boss care about his employees enough to paint their backs?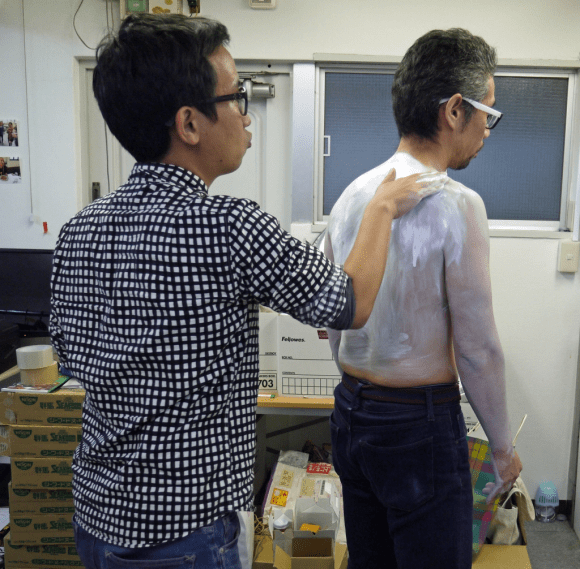 Once his upper body was covered in the paint, Mr. Sato grabbed a roll of red electrical tape and started wrapping it around his body to create a sexified version of Waldo's striped red-and-white shirt. With the demonstration complete, three more brave members of our staff followed suit.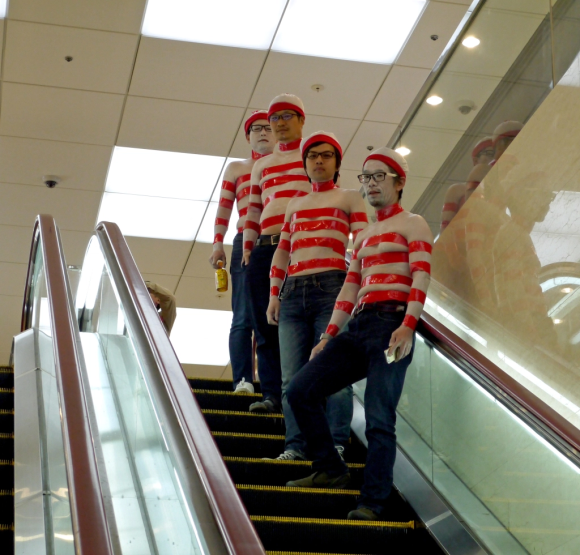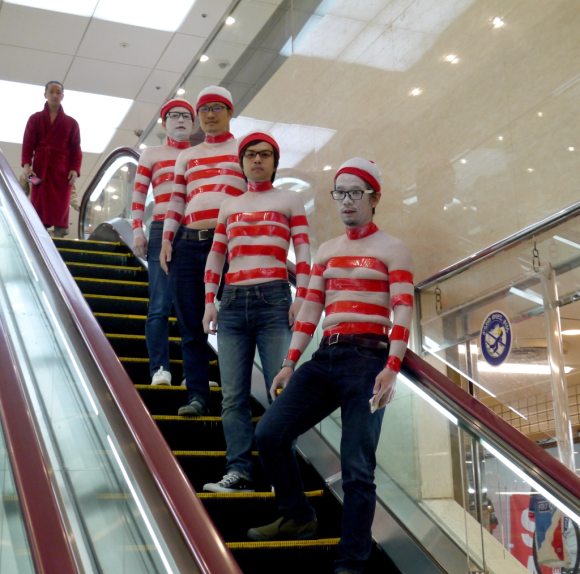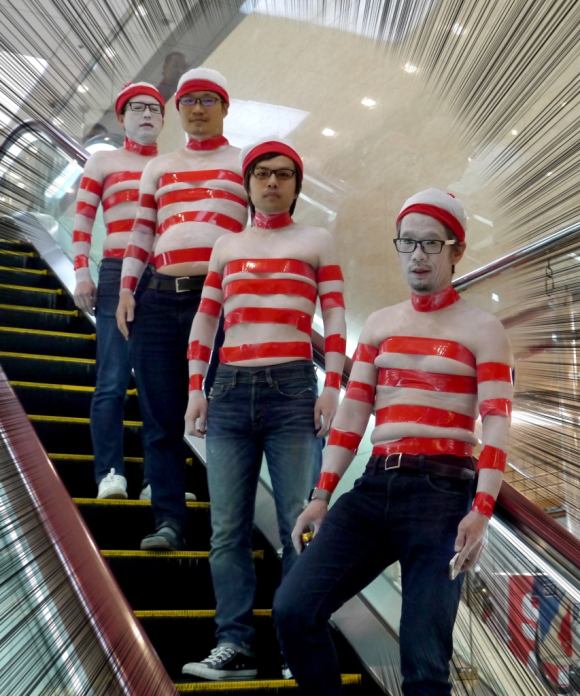 ▼ They ran out of face paint, but they had style to spare.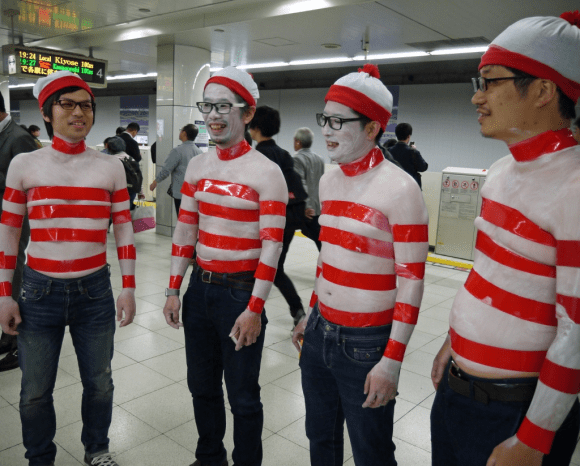 With Halloween falling on a Tuesday this year, the festivities in Tokyo have kicked off a little early, and so our four-Waldo team decided to hit the Shibuya neighborhood last Friday night. But since SoraNews24 headquarters is located in Shinjuku that meant an in-costume ride on the subway.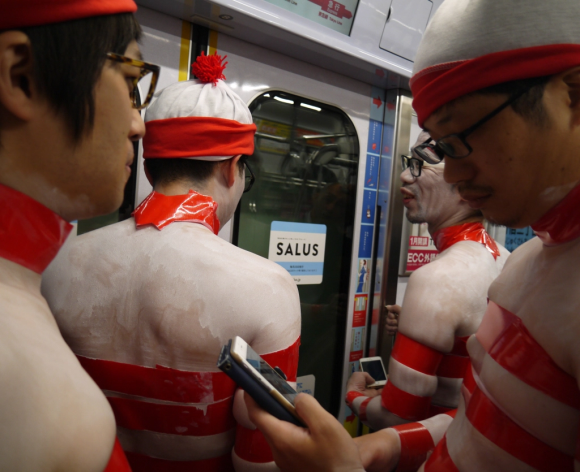 But while they got plenty of odd stares on public transportation, all the awkwardness melted away once they stepped out the gates of Shibuya Station and joined the other costumed revelers.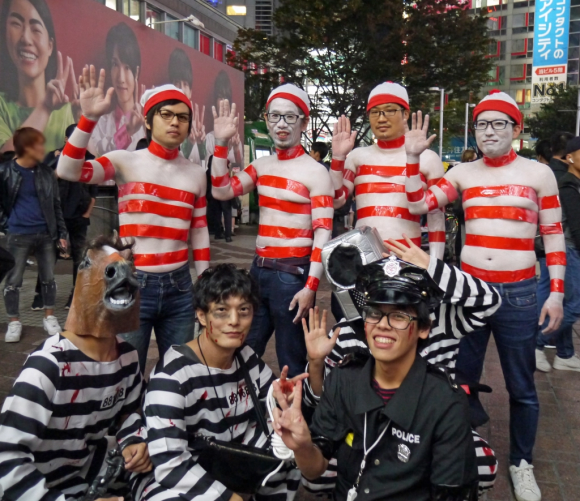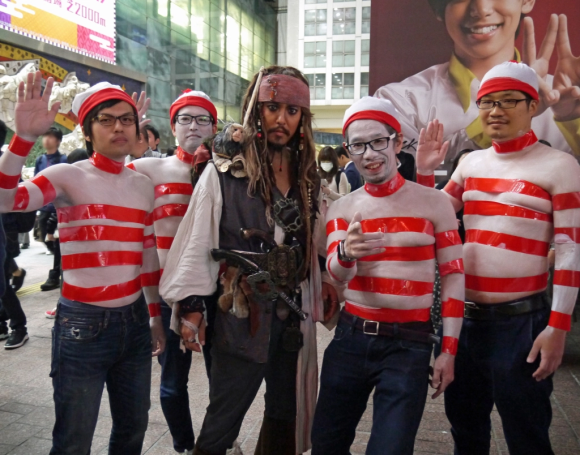 Mr. Sato's crew was an instant hit, with passersby posing for pictures with our semi-costumed reporters, including two foreign ladies on vacation in Japan who asked for a snapshot together.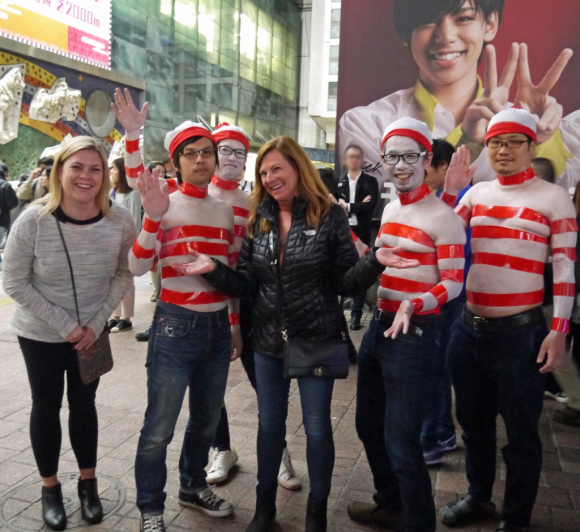 They even managed to find a few other Waldos with more traditional wardrobes.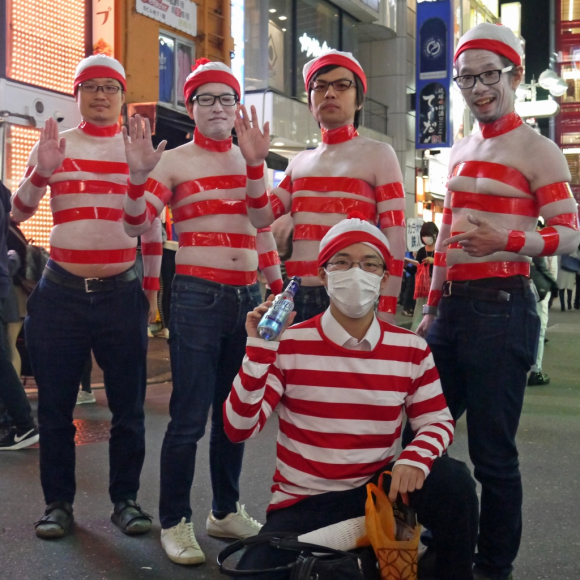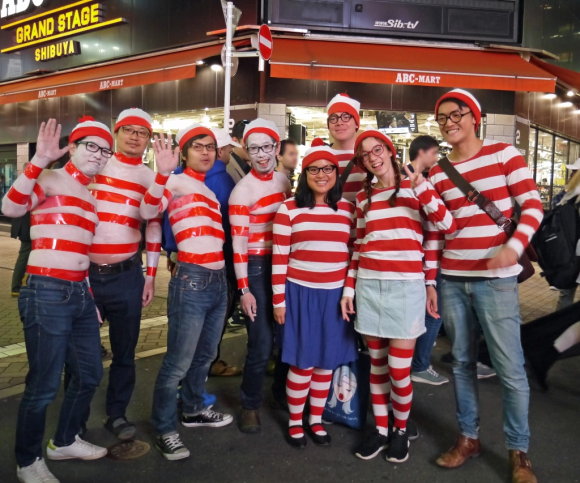 And while Waldo's original look is designed to blend in with the crowds of his books, Mr. Sato's plan helped him and his cohorts really stand out, with multiple TV crews interviewing them for the Getsuyo kara Yofukashi, Sukkiri, and Akko ni Omakase variety programs.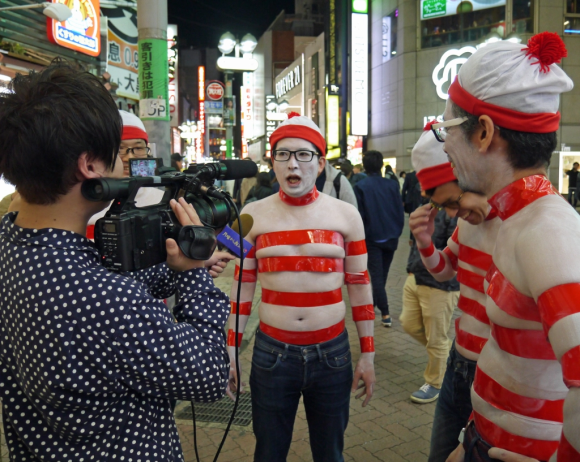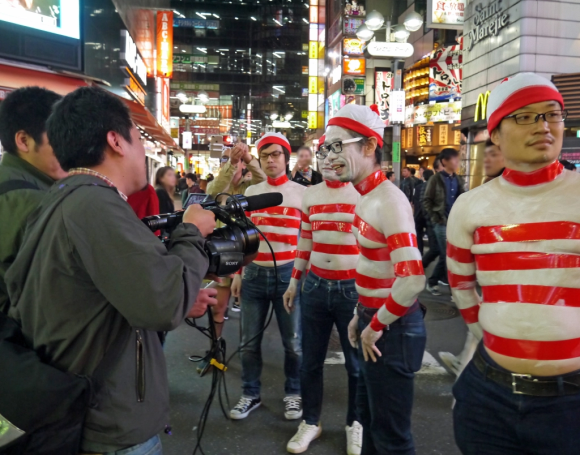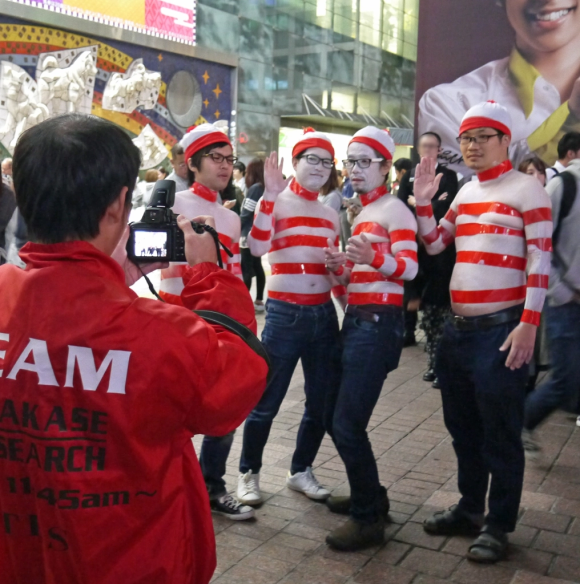 So remember, you don't need a huge budget or expert sewing skills to put together a crowd-pleasing Halloween costume. All you need is a little ingenuity, a lot of electrical tape, and a complete lack of self-consciousness.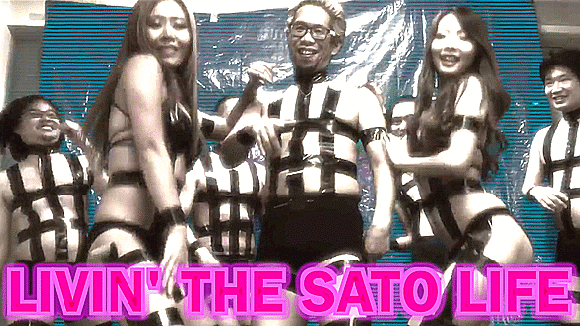 That's the Sato way.
Photos ©SoraNews24
[ Read in Japanese ]