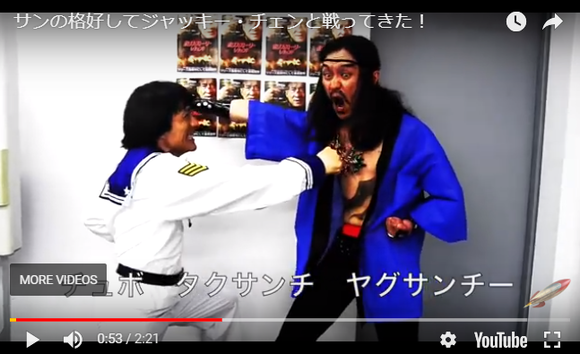 Remember the time we hired a lookalike and reenacted a classic Jackie Chan fight? Of course we do, we still have the video evidence!
While a new Dragon Quest game is always cause for celebration, it also marks new TV adverts. While we don't exactly need much of a push to run out and spend our money on new instalments in the long-running franchise (you can see Dragon Quest in almost anything if you play it long enough), all of us here at SoraNews24 have become worryingly obsessed with the adverts featuring the supremely talented Jackie Chan, but one of our Japanese writers recalled a dark period in his life where he took it a little too far, to the point where he just had to dress up in homage to the star and recreate a classic fight with a lookalike.
In the television commercials for the latest Dragon Quest free-to-play mobile game, Star of Dragon Quest (Japanese title, Hoshi no Dragon Quest), from makers Square Enix, Jackie Chan stars, quite rightly, as a legendary level 99 martial artist (also known as a fighter in some incarnations), a nod not only to his prowess but also to one of the game's character classes.
In the second advert Jackie Chan shows off his trademark comedy/hurting himself as he carves the Chinese characters for 'thanks' into a giant rock with a surprisingly robust folding fan. Given his characteristic quick moves and athletic form, you'd hardly know the veteran actor is 64 years old, and has broken innumerable bones during his action-packed career.
Seeing Jackie Chan in fighting action reminded us why we love him so, and why one of our Japanese-language writers, Go Hatori, felt the need to dress up as the enemy of Jackie Chan's character, the pirate Sanpao, from the 1983 film, Project A, and track down a convincing sailor suit-clad lookalike. With some fancy hand movements and relatively flexible leg kicks, it's like we're watching the sequel to the sequel (Project A Part II) that should have been made.
▼ One of these videos is an official trailer, the other was shot on a shoestring budget in an office in Tokyo back in 2014 with similarly named actor and stuntman Jackie Chang. Can you tell the difference? They are eerily similar.
On 27 May, Dragon Quest in Japan will be celebrating its anniversary with Dragon Quest goodies up for grabs including the chance to win a legendary martial artist costume just like the one Jackie Chan wears in the ad, with full details on the game's official site. With that in our hands, just what other classic fight scenes/dance-offs could we reenact?
Sources: YouTube/スクウェア・エニックス, PR Wire
Images: ©SoraNews24
[ Read in Japanese ]