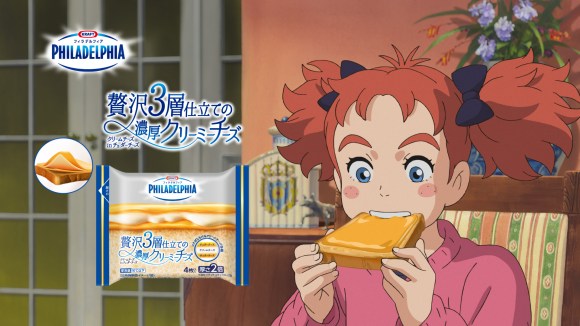 Characters from Mary and the Witch's Flower team up with prominent brands for a spectacular promotional campaign.
Mary and the Witch's Flower is one of this summer's most anticipated new animated films in Japan, largely due to the fact that it's been created by a number of staff who formerly worked at Studio Ghibli.
Directed by Hiromasa Yonebayashi, who also directed The Secret World of Arrietty and When Marnie Was There, the new movie also has former Ghibli screenwriter Riko Sakaguchi on board, as well as Takatsugu Muramatsu, who composed the music for Marnie.
As the first film from Studio Ponoc, a company founded by Marnie producer Yoshiaki Nishimura, Mary and the Witch's Flower has a lot of similar qualities to a Ghibli film. Take a look at the trailer below to see what's in store for audiences when the movie is released nationwide on 8 July.
Based on British author Mary Stewart's novel The Little Broomstick, the story itself reads like a Ghibli film: a young girl embarks on an adventure to help a black cat rescue its brother from a witch's spell, flying over treetops on a broomstick and making friends with magical characters along the way.
While the film looks set to be a hit for the new studio, they're pulling out all the stops to promote it, by teaming up with one of Japan's most prominent companies, Morinaga. Studio Ponoc has created a series of original scenes featuring the lead character, 10-year-old Mary Smith, enjoying a variety of Morinaga milk products, in a new set of commercials currently screening on Japanese television.
▼ The first ad shows Mary enjoying a tub of yoghurt with her onscreen cast members.
▼ The second ad shows Mary eating a chocolate-covered Parm brand ice cream.
▼ Next up is Mary eating another ice cream, this time a tub-type called Mow.
▼ Lastly, Mary can be seen enjoying a thick piece of toast covered in a slice of Philadelphia cream cheese.
The new ads are part of a wider campaign to promote the film, which includes a competition offering exclusive merchandise to those who register and answer a quiz at the official campaign site.
If you visit your supermarket during the promotional period, you'll find that you can pick up Morinaga items in special packs featuring scenes from the new film.
With so much excitement over the upcoming movie, it hardly needs promoting as anime fans around the country eagerly counting down the days until its release date.
Still, with acclaimed Ghibli director Hayao Miyazaki declining an offer to preview Mary and the Witch's Flower, the new campaign is bound to bring it to his attention, especially if some of his favourite products just happen to be from Morinaga.
Source, images: PR Times