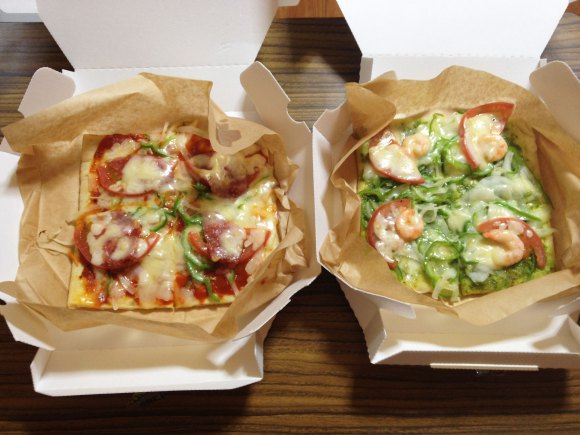 Subway is one of the most popular and successful fast food chains from the US to make it here in Japan. While of course you could always load your sub up with things like meatballs and cheese, the company has succeeded here by carving out a niche for itself as the healthy fast food option. Subway's brand in Japan is now synonymous with fresh vegetables and lean meats, so what happens when a chain with a reputation for offering healthy, light lunches starts selling gooey, cheesy pizza?
These are not just any pizzas, though; they're Pizza Subs, but not as Americans might know them.
Subway's new pizza subs were previously limited to locations on the island of Okinawa, but more recently branches in mainland Japan have begun adding them to their menu. Curious to try them for ourselves, we headed to our nearest Subway here in Tokyo to check them out.
There are two types of Pizza Subs to choose from: Salami & Cheese and Shrimp Basil. Each will set you back 450 yen (US $3.60), which is about the price of Subway's higher-end sandwiches.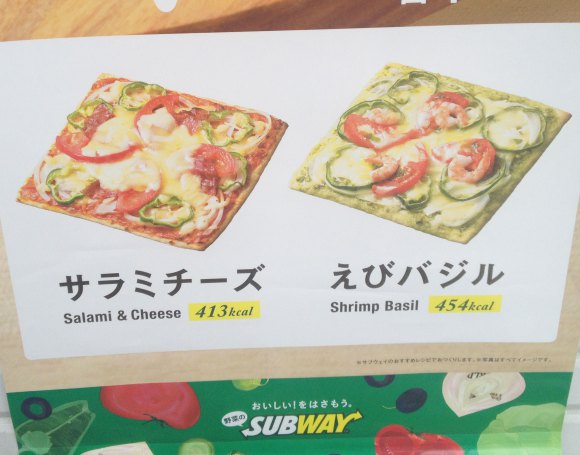 So what exactly is a Japanese Pizza Sub anyway? It's basically a baked pizza dough flatbread spread with sauce, cheese, and vegetables. When you order your pizza they'll bring out some springy flatbread and load it up with sauce, cheese, onions, tomatoes, and peppers, plus your toppings, then stick it in the oven. As long as the restaurant's not crowded, you could be eating hot, freshly made pizza in minutes.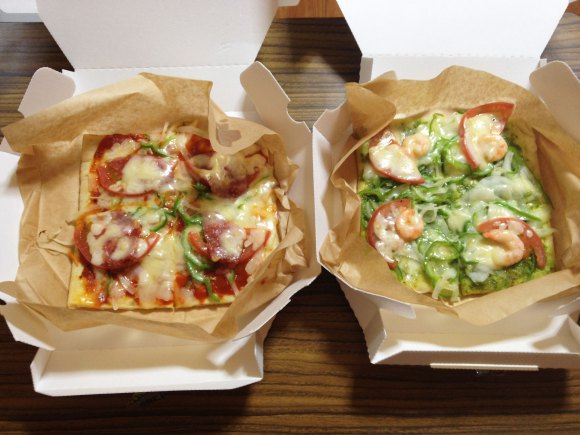 Despite being served it in a take-out pizza box, you're probably not going to be able to eat one of these things like a regular slice of pizza. One good way we found to tackle it was to turn it into a sort of calzone shape, thus avoiding losing most of our toppings to the wrapper.
Alternatively, you could pull the pizza apart and eat it in quarters; the pizza base is square and itself cut into four smaller squares for easier consumption. As you can see, it's practically dripping with toppings.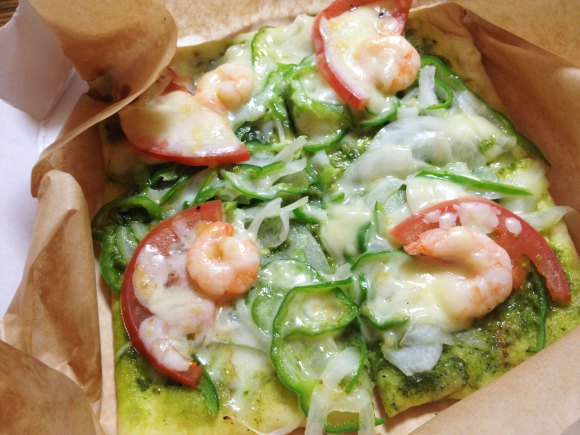 The veggies, which are the selling point for Subway Japan, are super juicy, the onion sweet and slightly crunchy. Although it's all been cooked, everything still tastes really fresh. On top of that, the mild cheese is so melty it's like eating fondue (and, as mentioned, could get a little messy).
The trick here is that the bread has already been pre-baked, so after adding the toppings in-store, all they need to do is heat it enough to make the cheese melt, so that the veggies all retain their freshness, and there's no chance of it being overdone and burned.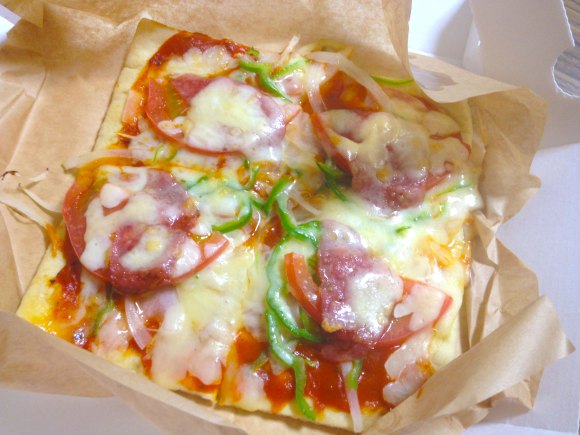 Now here's the unbelievable part – despite all that cheese, one Pizza Sub is only around 400-450 calories! The Salami & Cheese is 413 calories while the Shrimp Basil is only slightly more at 454 calories. They're the perfect size for a lunch that feels indulgent but not overly so. These new meals will definitely prove to be a hit with Subway Japan's main clientele: urban working women watching their figures.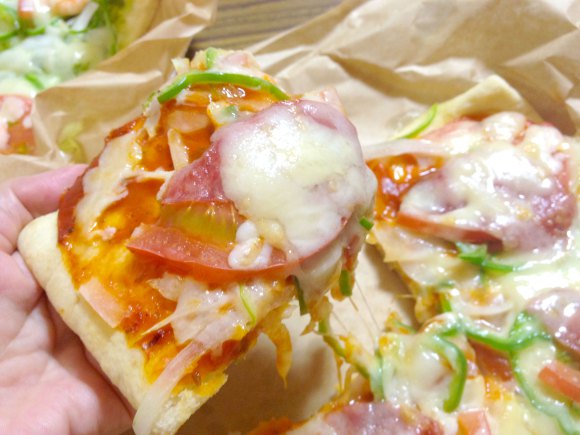 There's no list on the official list of Subway locations selling the Pizza Subs, but it seems like there are quite a few around these days, particularly in Tokyo. Just pop into your local branch and ask – the more people request it, the more likely they are to start putting Pizza Subs on the menu in every store!
Source: Subway Japan
Photos © RocketNews24