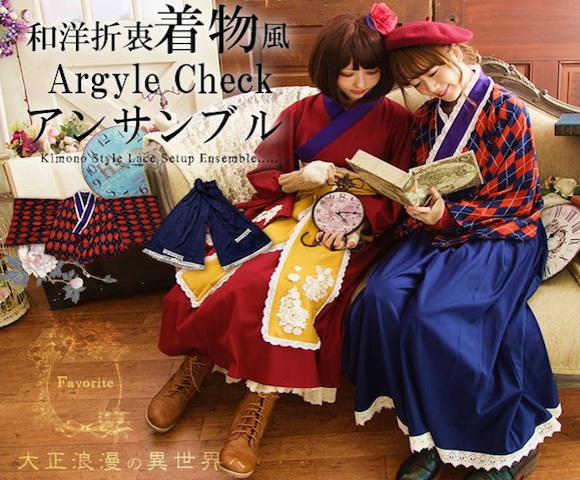 East meets west in this fusion style that combines overseas trends with traditional Japanese elements.
While a lot of people are intrigued by the culture and tradition that flourished during the feudal times of Japan's Edo Period (1603-1868), one of the most romantic eras in Japan's past came shortly afterwards, in what's known as the Taisho Period (1912-1926). This was the time when modern western culture began arriving in Japan, transforming traditional outfits with new flourishes and accessories inspired by trends from overseas. Hair ribbons, gloves, handbags and boots were added to kimono clothing, along with brighter patterns on fabrics, to create a fusion style affectionately known as "Taisho Roman".
Despite having many fans, it's quite rare for the style to be commercialised for the mass market, so whenever a Taisho Roman outfit is released, you can expect it to sell out in a matter of days. That's exactly why Japanese novelty store chain Village Vanguard has decided to offer pre-orders for this very special offering: the Western Romance One Piece.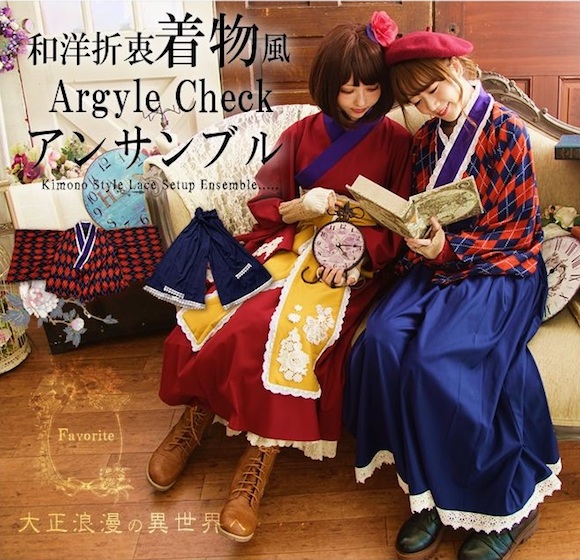 The new release comes in two different styles, each one celebrating the romantic fusion style of the early 1900s. There's the Argyle Check ensemble, which consists of a kimono top and a pair of gaucho pants – two elements that perfectly combine Japanese tradition with a fashionable western twist.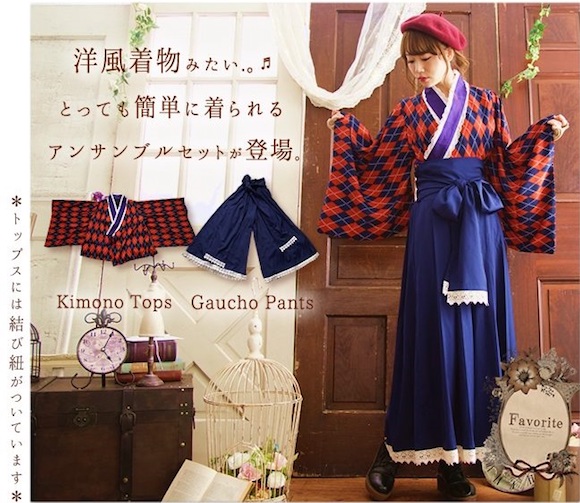 The argyle check pattern on the kimono is a beautiful choice, harking back to an earlier period in Japan's history, with the addition of ribbons and frills around the neckline.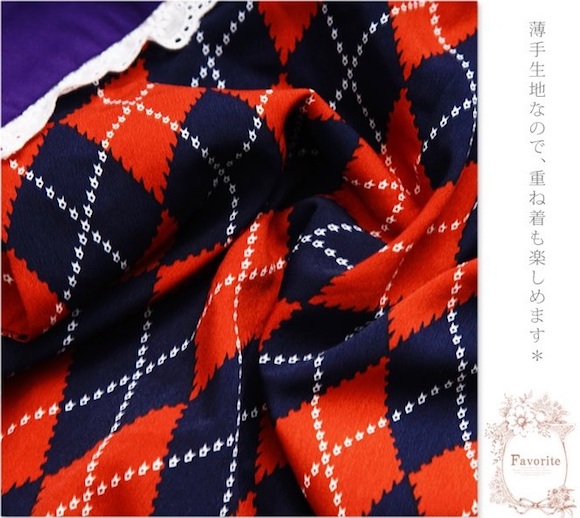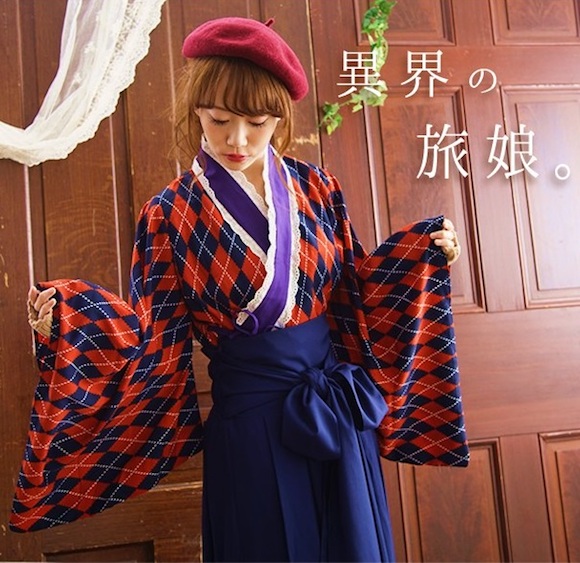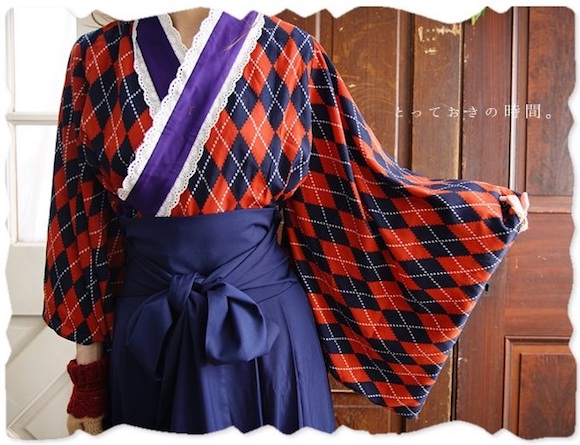 Not only does it look gorgeous, it's also incredibly easy to put on and comfortable to wear.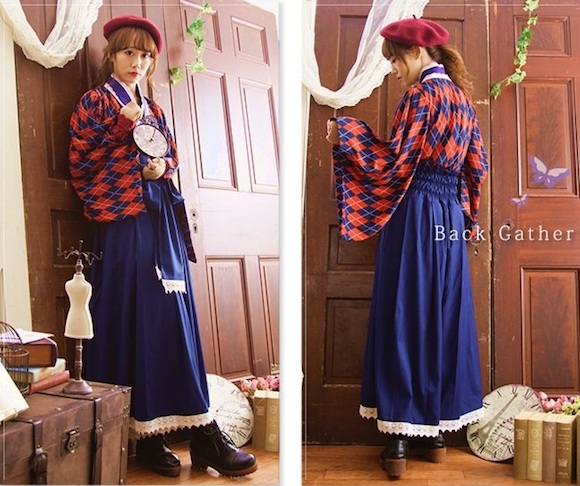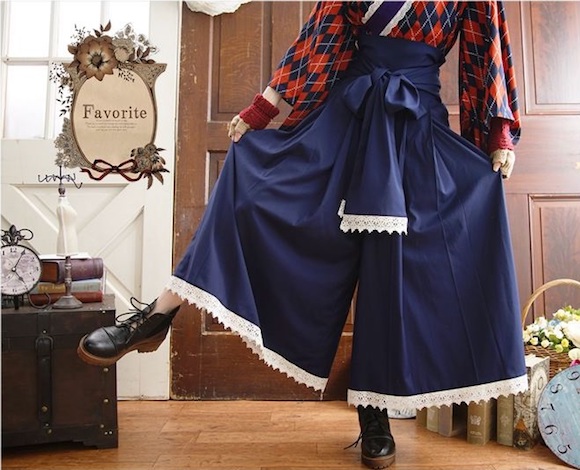 ▼ The second design in the range is the more exotic Flower Lace One Piece.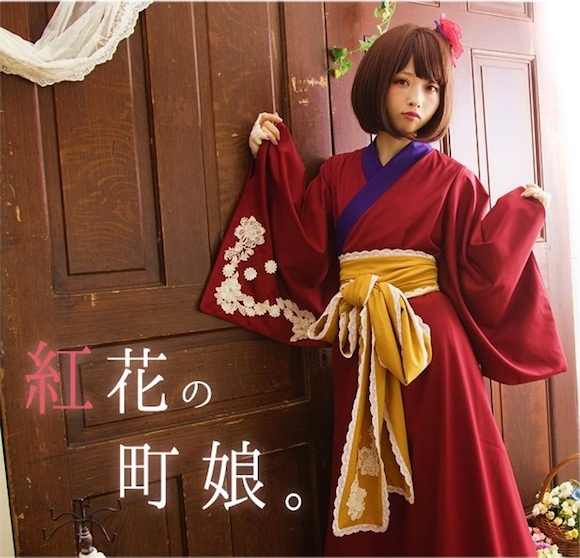 This set includes a kimono dress and an obi sash, both designed in a Taisho Roman style with bright colours, frills, and lace detailing.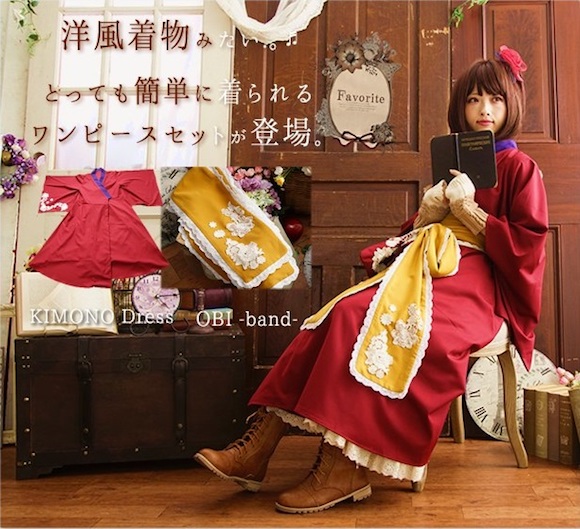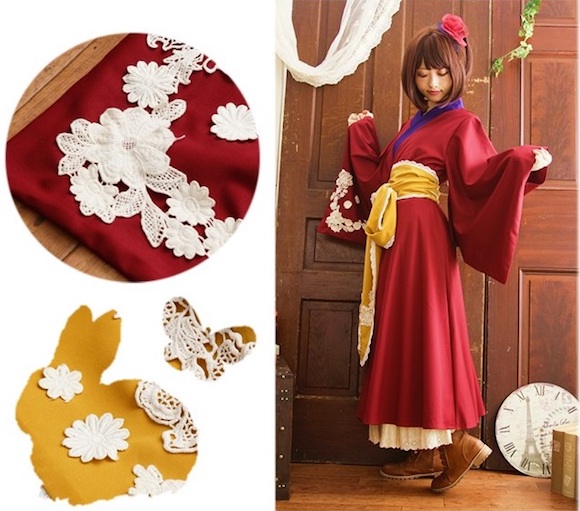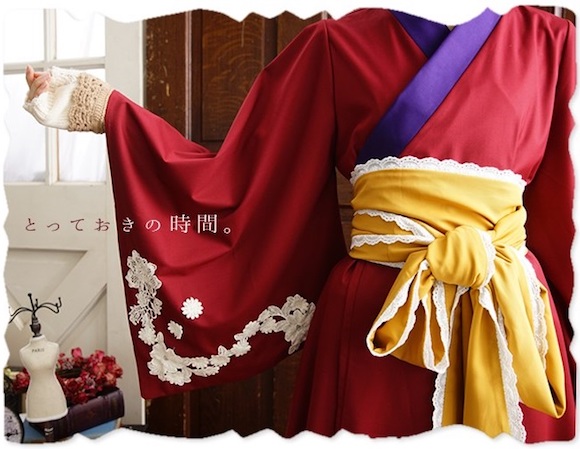 Like the Argyle Check Ensemble, this outfit is a cinch to wear and it looks even more stylish when accessorised with a lace slip and crocheted gloves.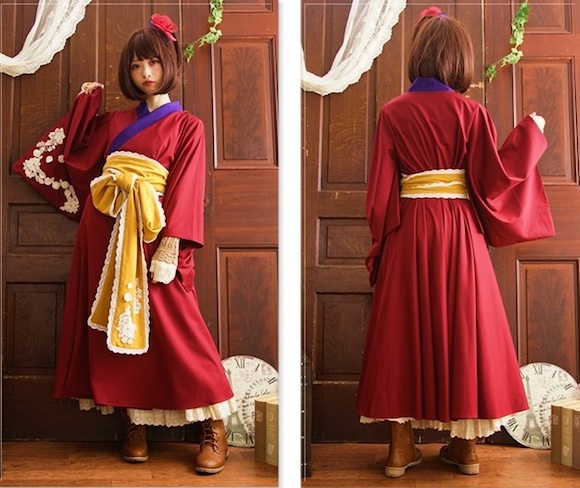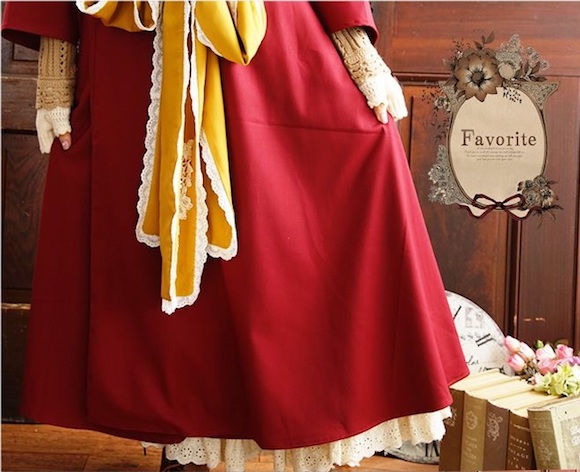 To add even more of a Japanese yesteryear look to either ensemble, you can add a Flower Lace Cardigan to complete the outfit.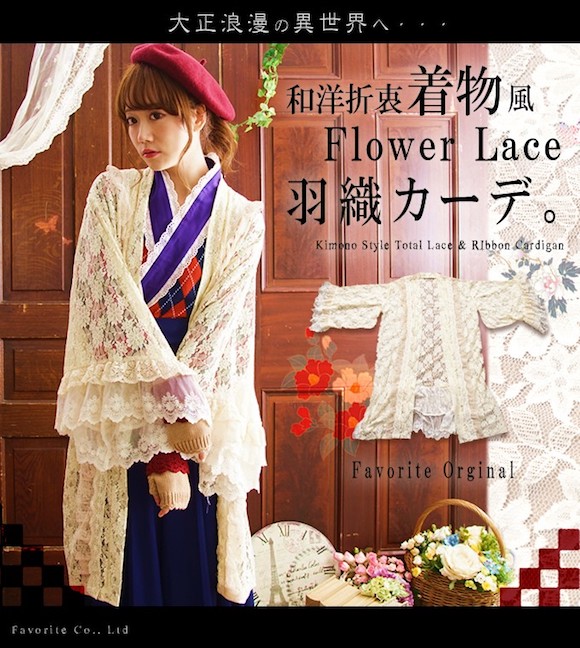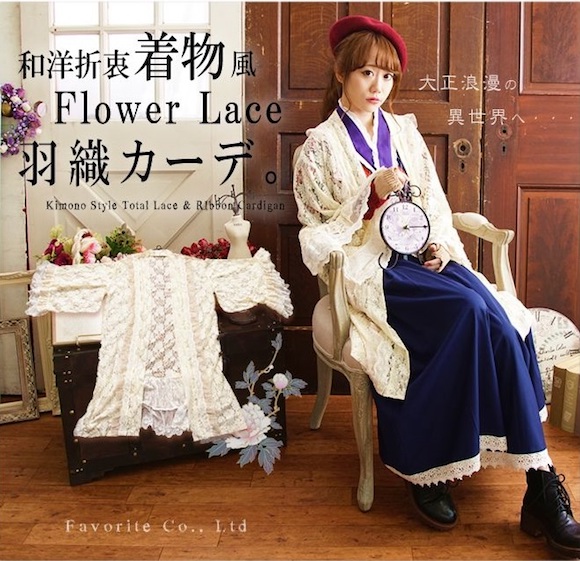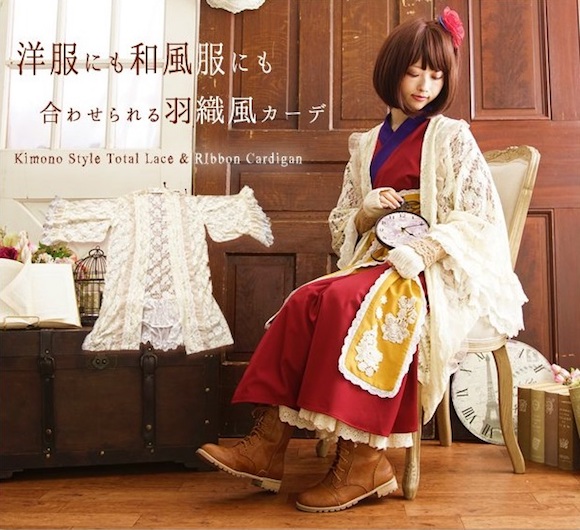 ▼ There's a lot of attention to detail in the cardigan, with frills, bows, ribbons and lace featuring in the design.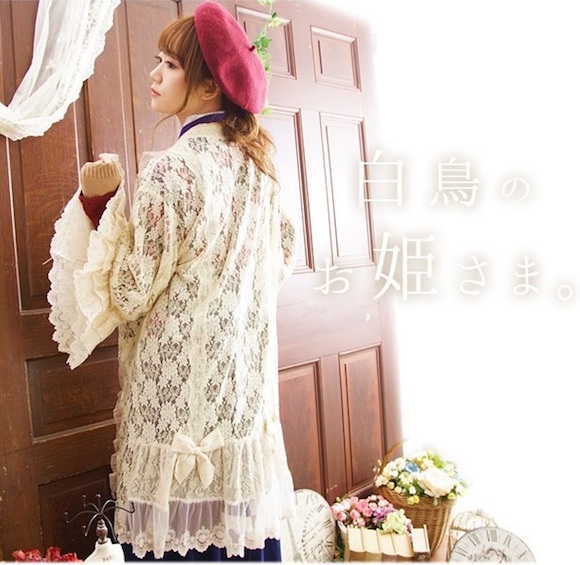 Given the rarity of these styles and the attention to detail in their design, these outfits don't come cheap. The Argyle Check Ensemble can be pre-ordered here for 21,038 yen (US$187), while the Flower Lace One Piece can be pre-ordered here for 15,098 yen. The Flower Lace Cardigan retails for 9,698 yen on the Village Vanguard website, with deliveries for all items in the range scheduled for late October-early November.
While these styles are all designed to be worn outdoors, if you're looking to add some Taisho Roman period fashion to your everyday roomwear indoors, you might want to take a look at these designs, which have been modelled on Taisho period school uniforms.
Source, images: PR Times