Ever wanted to combine the classic Japanese tempura rice bowl with a Western favorite, the burger? No? Too bad, because Mos Burger has done it for you.

Japan's burger scene has more than its fair share of McDonalds and even Burger Kings, complete with limited-edition offerings for a Japanese audience. Less well-known abroad are Japan's homegrown burger enterprises, like Lotteria, Freshness Burger and Mos Burger. You can step into any one of these fine establishments and get yourself a tasty slab of beef with some lettuce and a casing of bread.
Mos Burger in particular has a unique charm point that sets it apart from the others: the burgers at Mos Burger often forego the two bread bookends, the bun, that we usually take for granted. Fancy eating your burger out of leaves? How about a tomato-bun? Okay, but seriously, what if the buns were just more burger patties?
The chain has decided to tackle a distinctly more Japanese angle this month. Instead of bread (or lettuce, tomato, beef, donuts…), both the new specials will be sandwiched in "rice plates" – rice grilled into two thick, sturdy discs that you can slap the filling between.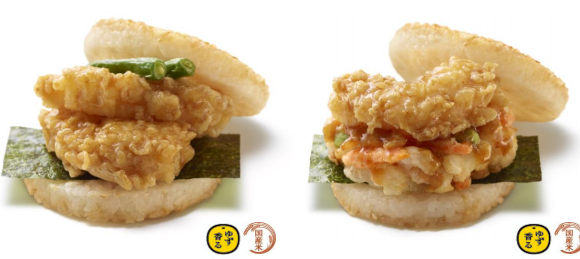 This invention, known as the 'Rice Burger', is Mos Burger's unique idea and it heralds back to 1987. We're living in 2018, though, and nowadays we need a little more innovation to tempt us. Enter the two new special products, which promise to summon up a historic taste that Japan's been in love with since the Edo period: tendon (tempura rice bowls). Delectable to the senses, light on the stomach and easy on the wallet.
Mos Rice Burger – Shrimp Tempura
The Shrimp Tempura consists of two chunky white shrimp, slathered in batter, sizzled in the fryer and drizzled in a citrus ponzu sauce – just like the sauce you might expect to dip your tempura into. You won't soon forget that crunchy, flavorful batter and the juicy shrimp inside! Two shrimps makes for a double-wallop of flavor, so you can savor the tempura-tastic experience a little longer. It will retail for 450 yen (US$4.10).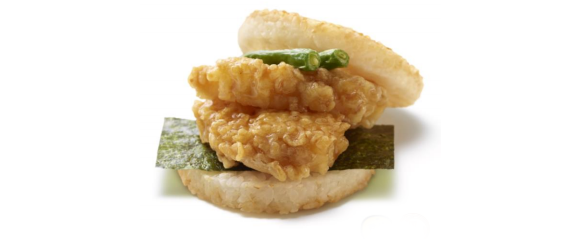 Mos Rice Burger – Shrimp and Fritter Temp-tation
This burger's Japanese name contains yokubari-ten, or in English 'tempura craving'. Sate that urge with one of the plump white shrimp tempura mentioned above, plus a crunchy fritter crammed with all the best ingredients: squid, green onion, edamame, carrots and yes – more shrimp. As the name suggests it's a feast for fans of classic tempura bowls, blending two beasts of batter into a burger behemoth. It will retail for 480 yen (US$4.40).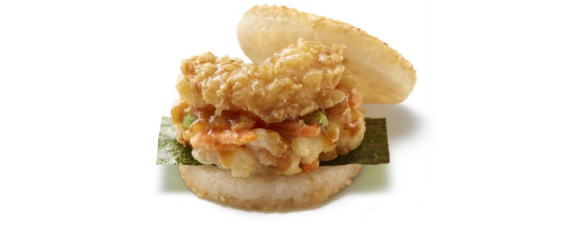 Mos Burger is also running a campaign from May 24 to June 18, where the coupon from this page will get you a 30 yen discount.

Are you shrimply starving after all that build-up? Ready to dial your local tempura restaurant for a double-sized order of the flaky stuff? Stay calm, because these burgeriffic takes on the classic tempura bowl will be in Mos Burger branches across Japan from May 24, and the campaign is set to run until mid-July. That's plenty of time to appreciate the carefully sourced ingredients, the unique rice bun and of course the mighty CRRRRONCH when you take your first bite.
Happy eating!
Source, images: Mos Burger