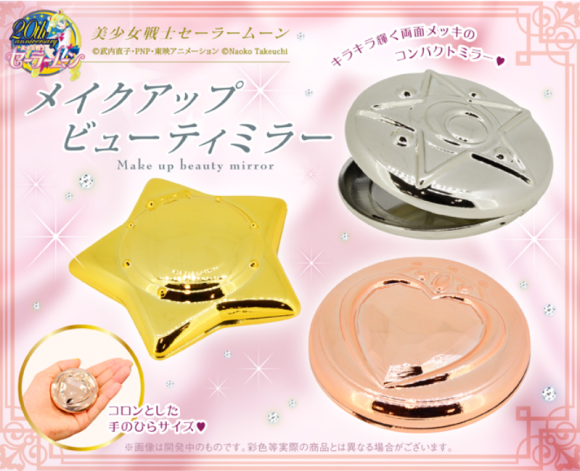 Gachapon, the capsule toys sold by vending machines in Japan, are always released in a series, usually with five or six different versions that are dispensed at random. But while that element of chance adds a moment of excitement, sometimes it's a little hard to imagine anyone really needs a half-dozen different styles of miniature folding chair, sausage/isopod hybrid, or crow chowing down on some delicious garbage.
Every now and again, though, we can easily see how someone would keep coming back for each and every model in the lineup, such as with these compact Sailor Moon compacts.
The new Make Up Beauty Mirror line of gachapon toys consist of six different fold-shut mirrors. Each is metal-plated, with two in a gold color, two in silver, and two in pink.
▼ Pictured here from left to right are the Crystal Star Compact, Prism Heart Compact, and Starry Sky Music Box.

▼ And if you're after the complete collection, you'll also want to get your hands on the Crisis Moon Compact, Sailor Moon A (Lovely Face), and Sailor Moon B (Simple Heart) versions.
The compacts are sized to fit comfortably in the palm of your hand, measuring 5.5 centimeter (2.2 inches) in diameter. They'll be selling for 300 yen (US$2.40) a pop once they start appearing in gachapon machines across Japan this October. Given Sailor Moon's broad popularity with so many different demographics, you may want to grab yours as soon as possible, lest they sell out and you're stuck having to buy a banana parrot to satisfy your capsule toy craving.
Sources: Nijimen, Sailor Moon 20th Anniversary Project Official Site
Images: Sailor Moon 20th Anniversary Project Official Site (edited by RocketNews24)